The Tree of Life Erasmus+ program that took place in Elpidohori in Greece last October was focused on cultivating awareness in each one of us participants about how to make our lives more sustainable: less wasteful and polluting, with a smaller carbon footprint, and more about discovering and implementing life solutions that go through community and sharing instead of conspicuous consumption and waste.
You can see the Easy Greek episode I made about my experience here.
I have known for a long time that one of the best and most effective ways to reduce my impact on the world and promote a caring, sustainable lifestyle (insofar as this is possible while living in a large city) is to become vegan, or to be an even more selective omnivore than I had been before.
So, for the past couple of months, I have limited animal products to drinking my own homemade kefir (which I eat to not let the products of my kefir fungus culture go to waste) and honey (which I tend to substitute with apple butter whenever possible). That's about once per week. I call this vegan, which it isn't really, but you could call it "plant-based" if you object. More on that soon.
In the spirit of this vegan project, Marilena and I shot this video for Easy Greek:
For my nameday, in October, we cooked and shared a meal with some of my friends, where we also got a chance to talk to them about Tree of Life and what inspired us to take the decision to severely cut back on our animal product consumption.
The menu included roast potatoes and sweet potatoes, hummus and pink beetroot hummus, a large salad with pomegranate, olives, sea fennel and sunflower seeds (and more), baked pita bread (which turned out a liiittle more peppery than I had planned) and some guacamole.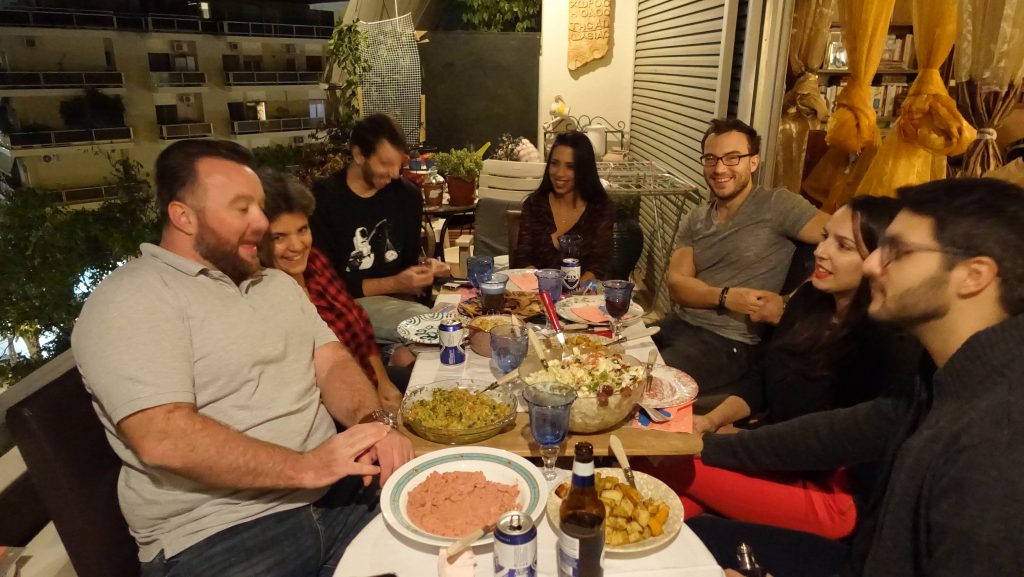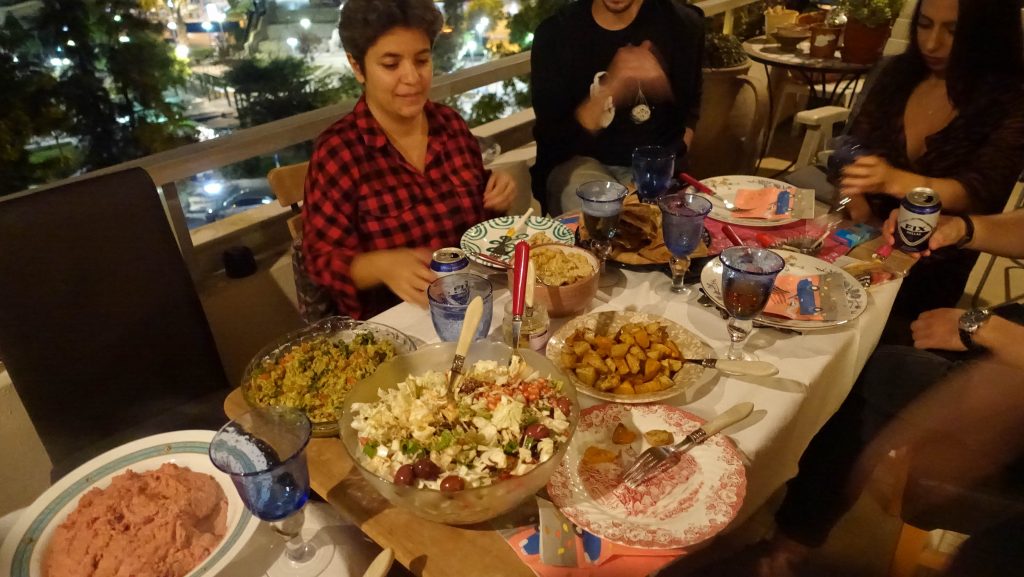 The immediately following weekend, we organized a second dinner, this time for some friends of Marilou's. It was actually more of a "vegan potluck". Some of the people we invited initially laughed at the idea of cooking vegan food to bring with them, but in the end the whole thing turned out to be a big success.
The menu in this case included my favorite cauliflower curry with coconut milk, more beetroot (and carrot!) hummus, more guacamole, salad, brown rice, roast pumpkin with pomegranate and sunflower seeds, vegan pesto pasta, Greek fava and roast Pleurotus mushrooms with thyme and balsamic vinegar.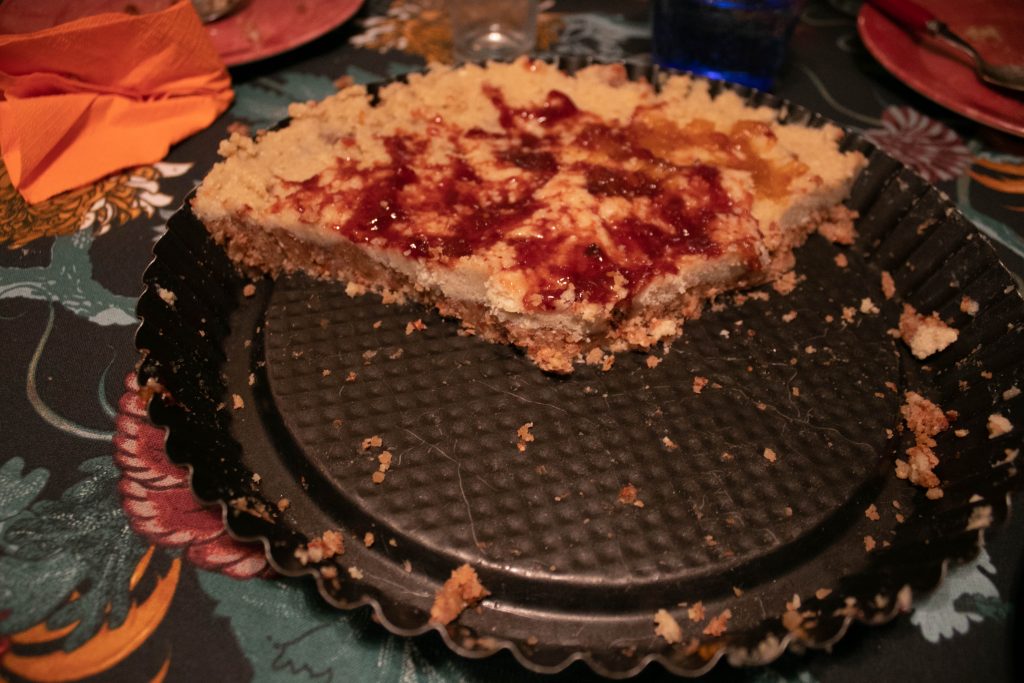 Despite the "sustainable" feast, I was disheartened by the fact that a lot of our dinner guests actually left quite a lot of their food in their plates uneaten. They all said they liked the food, so unless they were lying, they just couldn't serve themselves less, or just as much, as they intended to eat. So we actually created quite a lot of food waste that wouldn't have been produced otherwise. The total impact of this waste compared to what a "normal" dinner would have produced is hard to quantify: it might have had fewer, more environmentally impactful dishes, but a greater number of our guests might have been more eager to clean their plates. Or not. Who knows.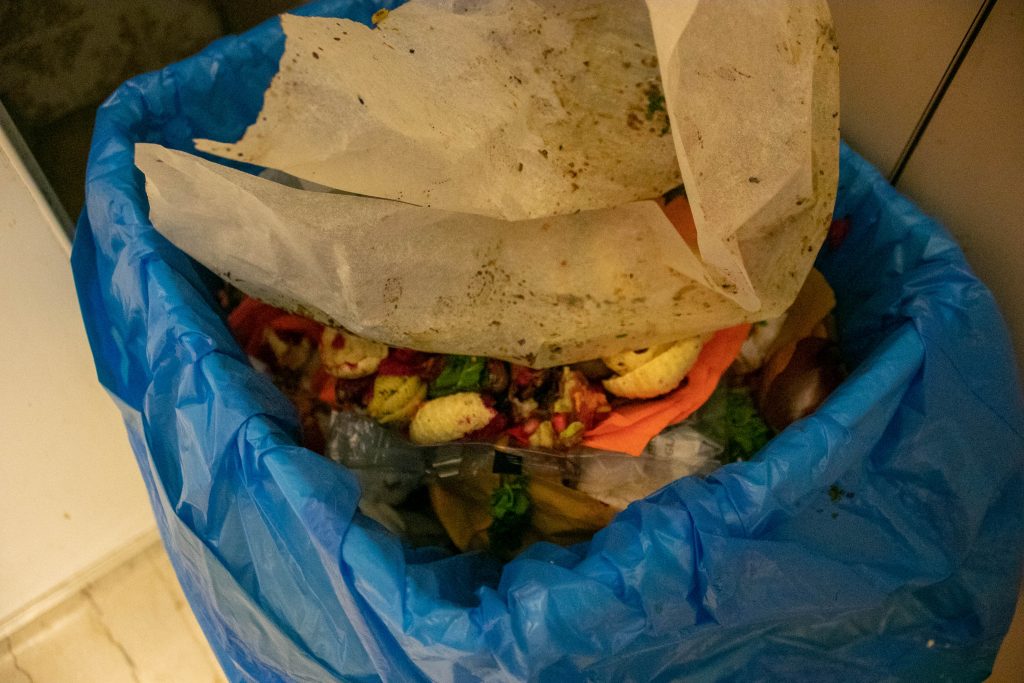 This realization inspired me to get some new worms for my Wormery compost bin and refresh my colony. I had accidentally killed the previous colony a few years back by drowning them in white flour (ironically). It was time to renew my efforts to reduce kitchen waste in the household.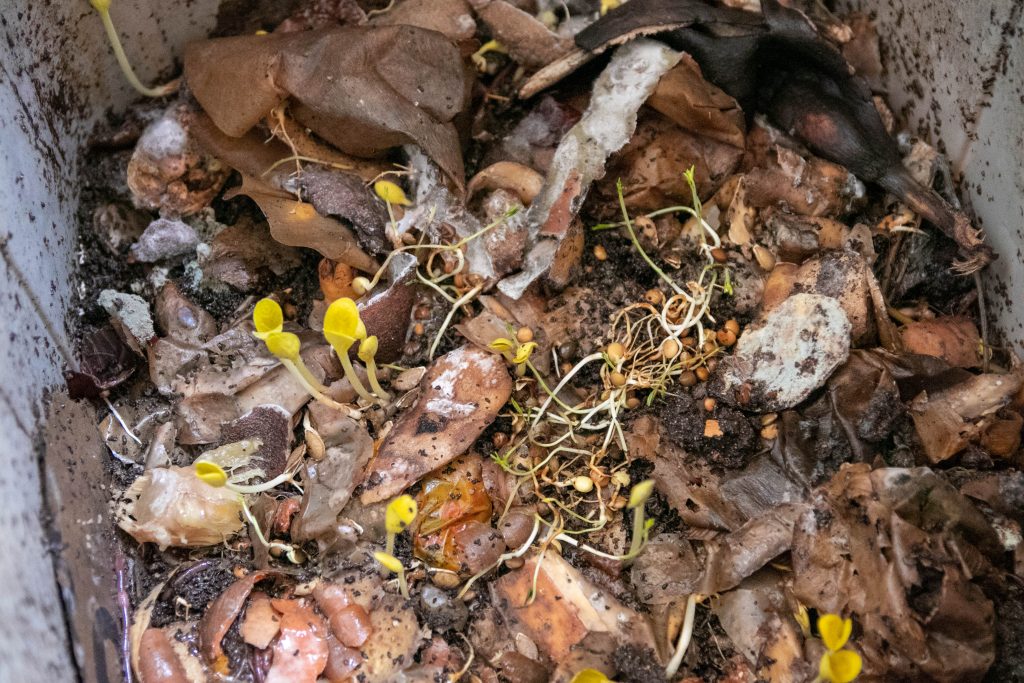 Before leaving Elpidohori, we made the agreement as a team to symbolically share plants or sprouts with other people, disseminating literally as well as figuratively the message of Tree of Life in this way.
I grew lentil sprouts as part of this activity — a fantastic tasty & nutritious snack.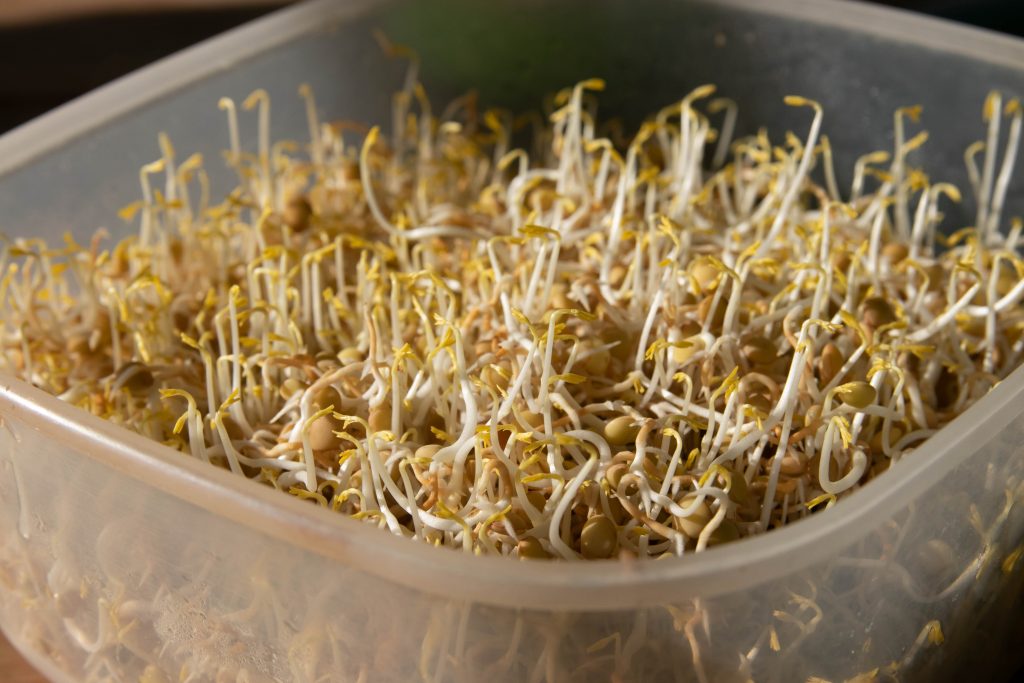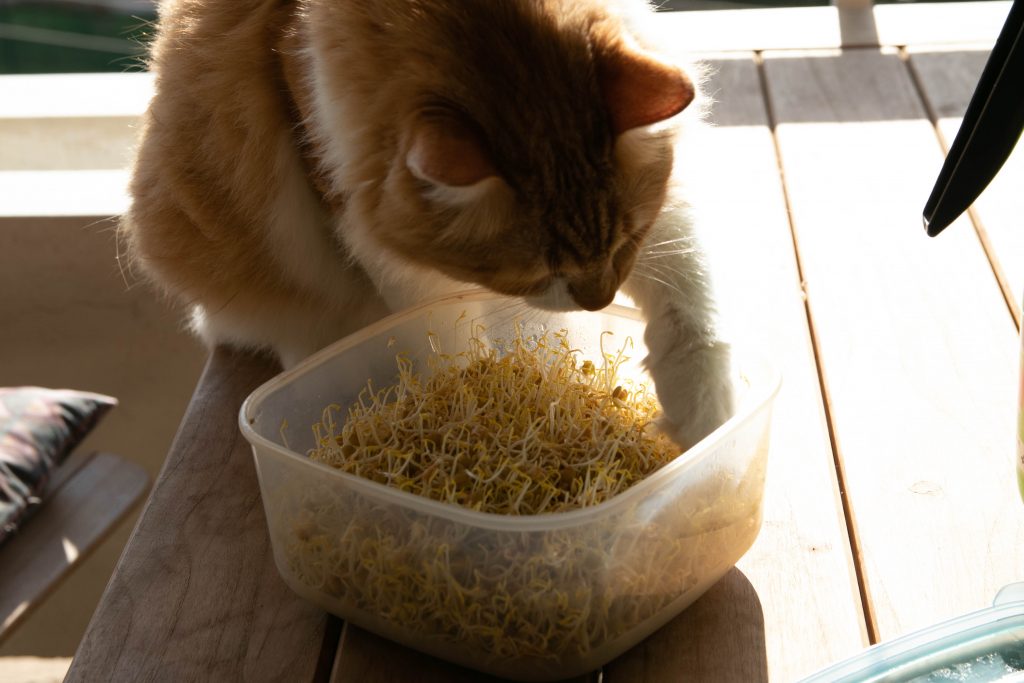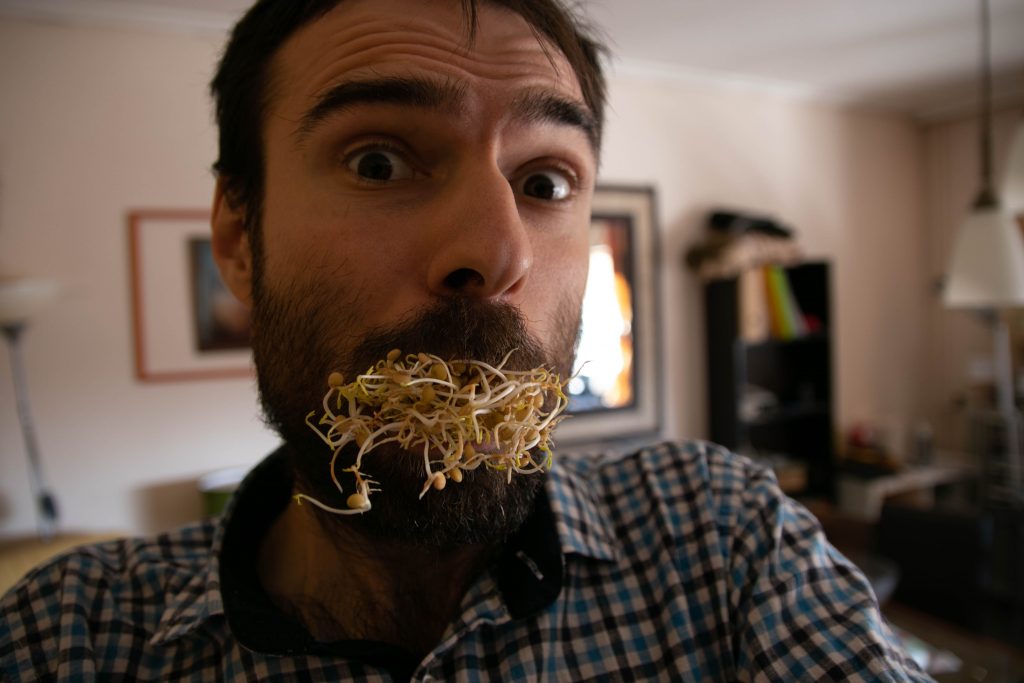 I also put some avocado pits (the ones left over from the guacamole!) in water to have them one day become avocado trees. I intended to gift these sprouts to friends and family, but almost a month later, they don't seem to have grown much. I hope they make it!
Once, and if, we get there, I'll be sure to post updated pictures. I'm following this video guide.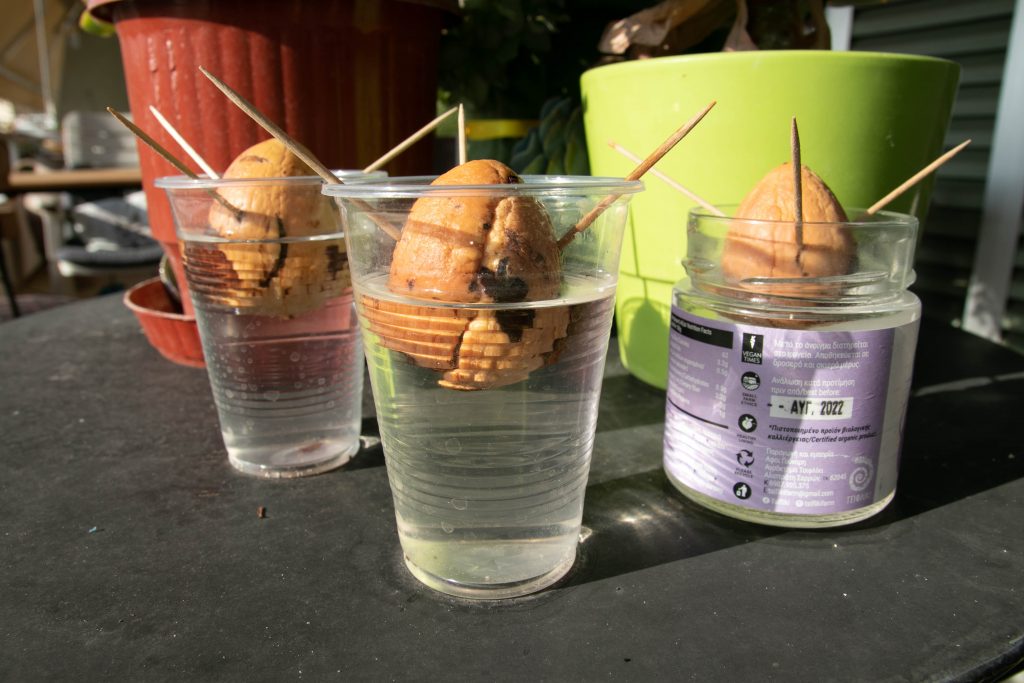 Also, here are some vegan restaurants in Athens I have reviewed for Spotted by Locals to get you even more familiarized with this fascinating, forward-looking world.
You may also browse by keyword: vegetarian.
This is the story so far almost two months in. I'm supplementing vitamin B12 and D3 and I'm eating a lot of hemp and pea protein as I've been hitting the gym regularly, and that seems to be working as intended.
On a final note, I watched The Game Changers on Netflix a few days ago (thanks for the recommendation, David!) — a documentary about "plant-based" diets and nutrition in strength-based or extreme sports.  I have to admit it's impressive to see Arnold Schwarzenegger singing the praises of plant-based diets, as I'm sure you'll agree.
At the time of writing, a full version also existed on Youtube, but I don't expect it will stay there for long, which is why I'm not sharing with you a direct link to it.
The relevant discussion has raised interesting questions about what vegan science is using for backing. The anecdotal evidence and stories included in the film were impressive, but some of the purely nutrition-based arguments against meat sounded a bit farfetched. Joe Rogan invited the documentary's main narrator (whose story was one of the many included in the film itself) to debate him over some of these facts. Here's another unbiased, seemingly fair review of the relevant science.
What I believe is there's no point obsessing over the nutritional arguments: if you take into account that many medical studies cannot be or never are replicated, or the fact that each study is more often than not funded by the respective industry that will most stand to benefit from the results, this kind of arguments tend to be unreliable and easy to debunk using equally valid counterarguments (by equally dubious and most likely unrepeated studies) carried through by the opposing camp.
It seems obvious and makes intuitive sense that a plant-based diet should be healthier than a primarily carnivore diet, but there are caveats. And, crucially, there are plenty of other, much stronger arguments for plant-based or vegan diets that question the ethics of factory farming and the ridiculously high environmental impact of animal products. It's just a matter of fact that the planet cannot support 7.5 billion carnivores and the animals that would feed them. Focusing too much on the nutritional arguments and discounting these other points seems like a waste of time and an invitation to endless bickering.