This place has been rather quiet lately. My last post here was more than 8 months ago, and this blog wasn't exactly teeming with life before, either.
Standing in the digital space of what used to be my dimension feels like returning to my teenage bedroom and coming face-to-face with a caricature of who I used to be. Still, caricatures are quite good at jogging the memory. Here it is, disused, but not as dusty as one would expect – 80% of dust consists of dead skin cells and here there's no-one it can be shed off of, after all. The walls are still covered with posters of bands I still like (or think I do) but never listen to anymore, and the corkboards still have pictures pinned on them of my younger self together with old friends I've lost all contact with. Did they move away from me or did I move away from them? The question is as pointless yet painful as 'why must there be death?', or 'can oil and water ever be lovers?'
In the almost 10 years I've had this blog, my WordPress backend tells me that I've written 985 posts – a respectable number, but way too close to 1,000 for comfort. If I'd kept posting my earworms and the handful of Goodreads and Game 2.0 reviews here I haven't shared, I could have done it, but right now the achievement seems hopelessly trivial (it's no accident I'm calling it that).
I'd been meaning to write this closing post for a longer time than I care to admit. What had been stopping me until now is that I thought I'd be 'betraying' a part of myself. I realised at some point that there's no shame in letting the past be the past.
I was thinking recently what I feel about the entity Cubilone. Am I Cubilone? Hardly anyone calls me that anymore, because most people I share my life with today don't remember the time I identified myself as Cubilone. They didn't know me, and I wasn't aware of their existence. In time, no-one will remember. But let's not go there.
Are an acorn and the oak tree it grows into the same 'thing'?
I am now 28 years old. White hairs have started to make their timely yet not wholly unwelcome appearance in my beard. The unibrow hairs I regularly pluck were the first ones to go white, actually. I started using the nickname Cubilone when I was 17. I can't recall if it was for Hi5 (yikes), MySpace or some other website where I felt the need to hide behind a mysterious-sounding nickname. It was an alteration of the even older handle CuBiCLe, a nickname I had spontaneously chosen for myself to play CounterStrike with friends at DaSilva, the first hit netcafe in Nea Smyrni. When I chose that name for myself, I'd barely count as a teenager.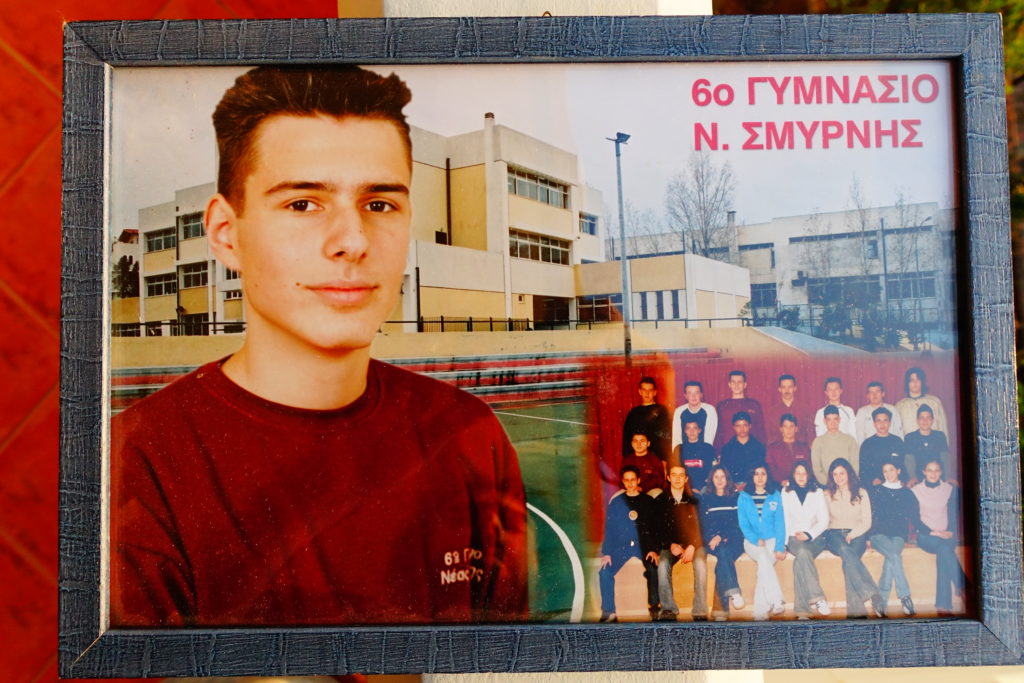 For years I preferred not to talk too much about the true origins of the name Cubilone (and CuBiCLe) – as you can tell, they wouldn't win any awards for originality. But now I wish to share this story with you in greater detail.
CuBiCLe's true origins probably stem from 'GameCube' (I was an obsessed Nintendo fanboy at the time), but I really think it also had to do with reading/watching either The Sorcerer's Stone or The Chamber of Secrets and subconsciously catching the word 'cubicle' from somewhere therein – Hogwarts toilets did feature rather prominently in both stories, after all.
Pretty soon, I was just Cubi. Eventually, I added the extra suffix "-lone" because it reminded me of 'alone' and it also kind of sounded Elvish. I don't remember how vocal I had been about what the word 'cubicle' meant, but I definitely didn't want to be going around introducing myself as 'toilet or office compartment'.
In all honesty though, I don't imagine I kept quiet for long – my humor was way more self-deprecating back then that it is now, and embarrassing myself for laughs is something I had not yet developed the pride to start avoiding. Today, I seek guidance from that part of me who didn't feel threatened by the completely imaginary prospect of being embarrassed.
I have so many memories of love, friendship and joy connected with the name Cubi. It feels like by giving up on the name, I'm giving up on the memories, or even worse (?), the people I share them with. It is, however, some consolation that my memories of loved ones calling me that are probably just mine. You know, memories are some volatile, fleeting, malleable things; blindly assuming I share certain ones with people I care about is a recipe for disappointment. So I won't assume that.
Still. For that, and for many other reasons, I know that I'm not giving up on the people, on the memories. That would be just me taking myself on my beloved guilt trips. No; this whole thing? It's just about me. Just for me to grow out of my skin, leave my cozy, comfortable cocoon behind.
So, am I still Cubi? Am I QB, qb? Am I Cubilone? Today?
…
Cubilone is me. He'll be me as long as I live. But I'm not Cubilone.
*holding breath*
*exhalation*
This marks the end of Cubilone's Dimension. This open diary I would turn to whenever I felt lonely and thought that writing something would make people in general interested in me or help them understand me, no longer serves me. It might still serve Cubilone, but it's not serving Dimitris.
If you're reading this, you might be interested in reading some more of what I'm planning to start writing soon. I'm obviously too vain to not have some kind of personalised web presence that's not plebby like Facebook, and most of all, I have really missed writing (in case you're wondering: yes, with the goal of making people interested in me or to help them understand me).
I do hereby present you Hallografik.ws, my new site, which at the time of writing is still not ready, but I'm kicking myself into action. I hope I'll stick to that one for longer than what Cubilone Dimension felt comfortable for.
As for the fate of this blog? It will stay online until December 7th, which will mark the 10th anniversary of when I registered it. I don't plan on renewing the domain name, so I only know that "cubimension.net" will become available soon. In case you're interested to grab it and use it to swear at me with really big letters.
The 985 posts? I've yet to really decide, but I don't think I have the heart to lock them away or even delete them forever. Not yet…