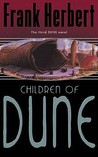 Children of Dune by Frank Herbert
My rating: 2 of 5 stars
That was difficult to finish. Just like with
Dune Messiah, I found that most of it wasn't about Arrakis itself. It tried to have a more complex plot centred around politics, but it ended up disintegrating and getting more convoluted all at the same time. All the new characters were boring and roughly everybody from Dune #1, including those we thought were dead, somehow appeared out of thin, dry air in order to fill in the gaps.
When I started reading Children of Dune and as I do mention in my review for Dune Messiah, an acquaintance of mine remarked that he'd given up on Dune somewhere around the beginning of Dune #4; "waaay too much religion, precognition and mysticism for my tastes." I never thought there could be such a thing as too much religion after I was done reading Dune #1, but seriously, I have the unshakable impression that this one went one spice-induced trip too far, even more so than Dune #2. So many visions, parallel paths and characters becoming less and less relatable and in some ways interchangeable, and not enough about Dune ecology and cultures that made Dune #1 so fascinating and even relevant today. Agreed, a lot of that was insinuated, but let me tell you, I'd pick discovering more about the changes in Fremen culture and the dying worms over more helpings of bland, supernatural politics any day.
I have to admit that the last few tens of pages were a bit better, and Children went out with an awesome bang, so now I am a bit curious to pick up God Emperor of Dune and find out whether the series ever went back to the more earthy, natural direction the first one had instead of going further down the supernatural path, but I'm almost certain visions, precognition, supreme retro-cognition, concepts much too abstract even for me, continued playing an important part in the series, by the looks of it an increasingly important part.
Slowly but surely I'm coming to the conclusion that it's not only more coherent, but also more entertaining reading plot synopses of the Dune sequels than actually reading the books themselves.